Using my iPhone to film, and putting it on top of the cat tree seems to work best.
So if you join me Sunday mornings, you'll be sitting where the cat is! He's called Sparkle!
Order of Service and Sunday News for 28 November
Watch First Sunday in Advent Service 28 November 2021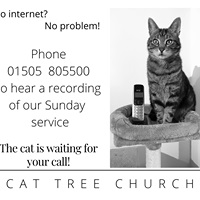 9
Please pass this phone number on to anyone you know who doesn't have internet access,
and would like to join the congregation of Cat Tree Church.
Calls are charged at local rates, and services usually last about 20 minutes.