Using my iPhone to film, and putting it on top of the cat tree seems to work best.
So if you join me Sunday mornings, you'll be sitting where the cat is! He's called Sparkle!
Sunday News for 22 May 2022
Watch Sunday Worship 22 May 2022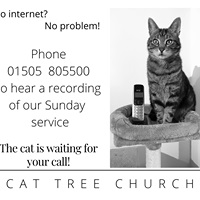 Please pass this phone number on to anyone you know who doesn't have internet access,
and would like to join the congregation of Cat Tree Church.
Calls are charged at local rates, and services usually last about 20 minutes.
Watch Sunday Worship 15 May 2022
Watch Sunday Worship 8 May 2022
Watch Sunday Worship 1 May 2022 & Presentation of Long Service certificates
Watch Sunday Communion Service 24 April 2022
Celebration of the life of Jean Eckersley 19 April 2022 1pm - watch
Holy Week - Watch Easter Sunday Service 11.30am
Holy Week - Watch Good Friday Service 7pm
Holy Week - Watch Maunday Thursday Service 7pm
Watch Sunday Worship 10 April 2022 Palm Sunday
Watch Sunday Worship 3 April 2022
Celebration of the life of Gordon Boatman
Watch Sunday Worship 27 March 2022
Watch Sunday Worship 20 March 2022
Watch Sunday Worship 13 March 2022
Watch Sunday Worship 6 March 2022
Watch Celebration of the life of Irene Neilson

Watch Sunday Worship 27 February 2022

Watch Sunday Worship 20 February 2022

Watch Sunday Worship 13 February 2022
Watch Sunday Worship 6 February 2022
Watch Sunday Worship 30 January 2022
Watch Sunday Worship 23 January 2022
Watch Sunday Worship 16 January 2022
Watch 1st Sunday in Epiphany 9 January 2022
Watch Sunday Service 2 January 2022
Watch Boxing Day Service 26th December 2021
Watch Christmas Morning 25 December 2021
Watch Fourth Sunday in Advent Service 19 December 2021
Watch Third Sunday in Advent Service 12 December 2021
Watch Second Sunday in Advent Service 5 December 2021